Tuesday, June the 25th: Meetup with the San Francisco Bay Area Azure Developers group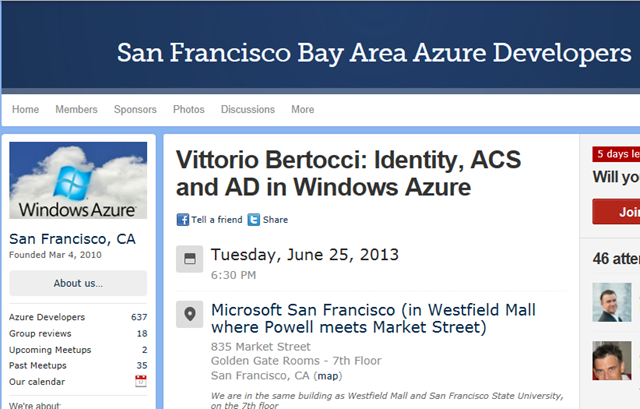 Few months ago Robin was so kind to extended an invite to speak about Windows Azure AD at one of the the S. Francisco/Bay Area Azure Developers meetings. Needless to say, I was honored to accept!

If Tuesday next week you happen to be in S.Francisco (I heard there might be something big going on

) and you are curious about what Identity as a Service might mean, RSVP for the meetup here and come by to spend some time chatting with us!
Thanks to Robin and Bruno for inviting me over and for my chronic unresponsiveness: instead of calling me names, you are being extra nice

if it's a ploy for making me feel guilty, it's working!
On the content: I was thinking of giving a quick intro/demo of the main uses of Windows Azure AD, specifically about web SSO and SaaS applications, and then open it up for discussion & interaction. We already published a lot of material (tutorials, videos) you can review at any time: the value of in-person meetings is that you can corner me with any question you want and get an answer (when I know it!) in real time.
Also: I don't want you to put your hopes up, at they might still take it back – but today I got the green light for showing you some new, sweet stuff – and I am looking forward to see your reaction!

See you Tuesday,
V.
Vittorio who?

Vittorio Bertocci is a developer, speaker, published author, avid reader, troublemaker, foodie, Italian expat, and other things that would not be wise to mention here. This is Vittorio's personal blog. The views and opinions expressed here are his, and not those of his employer.

Follow @vibronet