If you head to the Azure documentation site, and in particular, the Azure Active Directory node –  you'll find a brand new developer guide. You can also go straight there by typing http
I won't actually know until you give us feedback, but something tells me that you'll like it!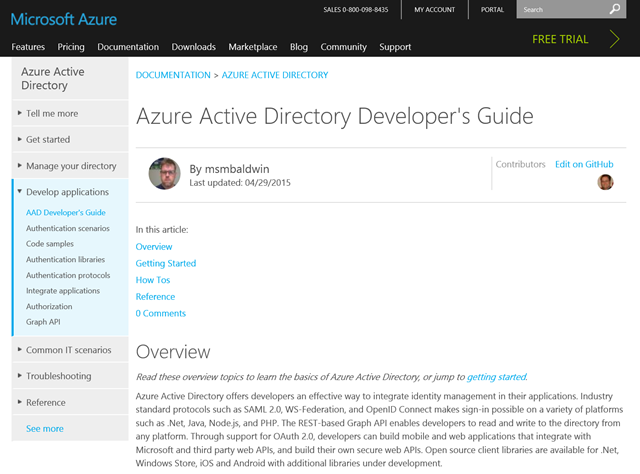 The new guide makes existing content more accessible – and introduces brand new articles.
The new Getting Started section
I think many of you will be happy to find a sizeable Getting Started section: a collection of quickstart guides – complete instructions to perform fundamental development tasks with Azure AD, designed to help you getting up and running as efficiently as possible.
The guides are organized per app type first, platform and dev stack second. There is a first set for native clients (iOS, Android, .NET, Windows Phone, Windows Store, Xamarin, Cordova) and a second set for web apps (.NET Web App,  .NET Web API, Javascript, Node.js).
You can expect those lists to grow for encompassing more platforms and more tasks. In fact, we need your help!

Specifically:
Engage! The Azure documentation makes it easy to comment on articles, rate the content, and even get help directly on StackOverflow. In fact, there's even a GitHub link if you want contribute. Just scroll to the bottom of the page, you'll find all the links there.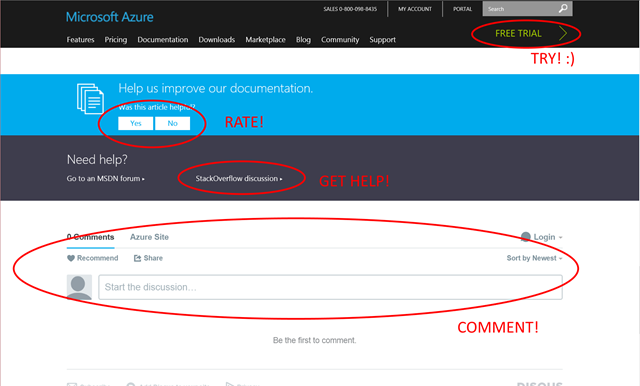 We are always looking for the best way to enable you to use Azure AD in your applications. Please

let us know which new platform and tasks you would like to see covered in more details.
That's it! Happy learning

Vittorio who?

Vittorio Bertocci is a developer, speaker, published author, avid reader, troublemaker, foodie, Italian expat, and other things that would not be wise to mention here. This is Vittorio's personal blog. The views and opinions expressed here are his, and not those of his employer.

Follow @vibronet