From the monthly archives: May 2015
What a couple of weeks they've been!
I absolutely loved the chance to speak directly with so many of you. You are doing pretty amazing stuff with our dev libraries, and your feedback is key for ensuring that we keep delivering on the features you need.
If you want to catch up, below you […]
Continue Reading

→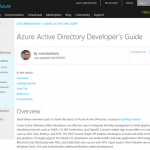 Vittorio who?

Vittorio Bertocci is a developer, speaker, published author, avid reader, troublemaker, foodie, Italian expat, and other things that would not be wise to mention here. This is Vittorio's personal blog. The views and opinions expressed here are his, and not those of his employer.

Follow @vibronet