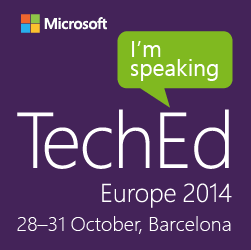 I can't believe TechEd Europe is already a mere week away!
This year I have just 1 session, but TONS of new stuff to cover… including news we didn't break yet! 75 mins will be very tight, but I'll do my best to fit everything in. If you want to put it in the calendar, here there are the coordinates:
DEV-B322 Building Web Apps and Mobile Apps Using Microsoft Azure Active Directory for Identity Management
Thursday, October 30 5:00 PM – 6:15 PM, Hall 8.1 Room I
As usual, I would be super happy to meet you during the event. I'm scheduled to arrive on Monday evening, and I plan to stay in Barcelona until Friday morning – there's plenty of time to sync up, if we plan in advance. Feel free to contact me here.
Also, I plan to be at ask the expert night – it will be right after my talk, hence that should provide a nice extension to the QA.
Given that I don't often cross the pond anymore these days, the week after I'll stick around and spend 3 days in UK (Reading) and 2 days in Amsterdam. (I'll also spend the weekend in Italy, but I doubt you want to hear about identity development on a Saturday

). I believe the agenda is already pretty full, but if you are in the area and interested feel free to ping me – we can definitely check with the local teams if we can still find a slot.
Looking forward to meet and chat!

Vittorio who?

Vittorio Bertocci is a developer, speaker, published author, avid reader, troublemaker, foodie, Italian expat, and other things that would not be wise to mention here. This is Vittorio's personal blog. The views and opinions expressed here are his, and not those of his employer.

Follow @vibronet