From the monthly archives: October 2014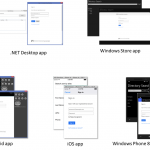 It's again preview time for ADAL .NET! I can't believe we are already working on version 3 – this pace would have been unthinkable just few years back, and yet today it is barely enough to keep up with the new possibilities that the tech landscape offers.
Version 1 and 2 have been enjoying great […]
Continue Reading

→
Vittorio who?

Vittorio Bertocci is a developer, speaker, published author, avid reader, troublemaker, foodie, Italian expat, and other things that would not be wise to mention here. This is Vittorio's personal blog. The views and opinions expressed here are his, and not those of his employer.

Follow @vibronet

@vibronet

Wife catches Alexa with the blue ring on, for no apparent reason. "Alexa, were you randomly sampling the ambient sounds?" - "🎼pu-plum".