ADAL for .NET/Windows Store/Windows Phone Is Now Open Source!
We've been saying it was coming for almost a year. With this RC preview release, it's finally happening: ADAL for .NET/Windows Store/Windows Phone is now fully open source!
Without getting too dramatic, this truly ushers a new era of transparency and collaboration between our team and you guys – you'll be able to:
Easily access ADAL's source (duh ) through this GitHub repo
Contribute to ADAL!
You will need to submit a Contributor License Agreement form before submitting your pull request. This needs to only be done once for any Microsoft Open Technologies OSS project. Download the Contributor License Agreement (CLA). Please fill in, sign, scan and email it to msopentech-cla@microsoft.com.
Fork the project if you want to do something radically different and you need a starting point
See our work in progress and possibly do intermediate builds if a fix didn't make it to the released NuGet yet

In fact, you'll be able to grab nightly builds directly from MyGet! see below

Configure Visual Studio to get ADAL symbols and step into ADAL's source while debugging your own apps!
Note that we will keep releasing new NuGet versions (stable and prerelease) at the usual location, with the usual support policies – the code is an additional way for you to get even more value from ADAL and does not substitute our usual release cycle.
As you might infer from the number of exclamation points, I am pretty excited about this!


All of the above points are pretty self-explanatory, but the MyGet and VS configuration for vacuuming down the library symbols require a bit more guidance: see the instructions below.
Configuring Visual Studio 2013 to Access AAD's MyGet Feed
Our collaboration with the ASP.NET team on the OWIN middleware components for OpenId Connect made us experience first hand how convenient it is to have a MyGet feed where we can dump nightly builds and use it as a collaboration touch point as we refine our software. Hence, we decided to extend those benefits to ADAL itself.
To configure the AAD MyGet feed in VS 2013:
Go to Solution Explorer->[project node]-> Manage NuGet Packages…->Settings.
Hit the '+' button on the top right corner
In the Name field, enter something to the effect of "AAD Nightly"
In the Source field, enter  http://www.myget.org/f/azureadwebstacknightly/
Hit 'Update'
Hit OK
…and voila'! From now on you can get the absolute freshest (and totally unsupported, BTW

) work-in-progress ADAL build.
Remember, for official previews and stable releases keep referring to the NuGet.org feed.
Configuring Visual Studio to Load ADAL Symbols
In my opinion, this is one of the coolest VS + NuGet features for open source projects. How many times have you wished to unpack that mysterious error and get to the bottom of what exactly is failing in that oh-so-handy-but-oh-so-black-box library you're using? Well, now with ADAL you can! It just requires a bit of configuration.
You basically need to follow the "recommended configuration" section of this page.
Here there's how my debugger options look like after I have done so: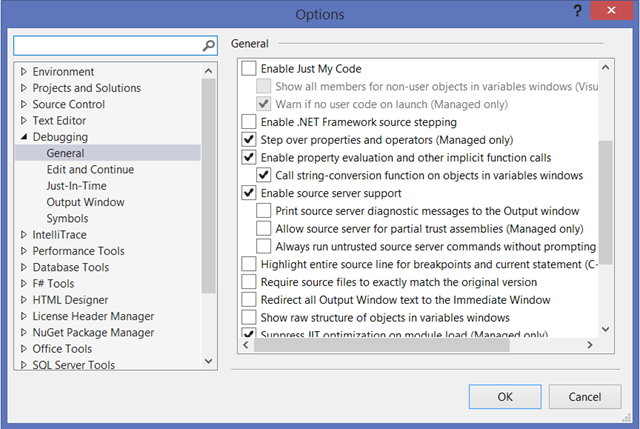 and here there are my symbols settings: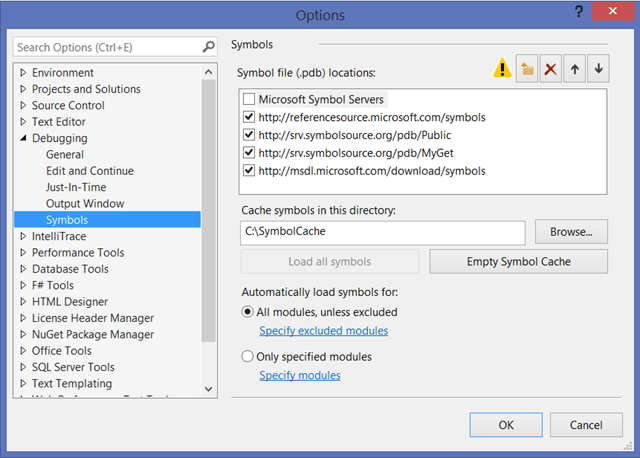 Please be aware that loading up the symbol cache is doing to be quite laborious for VS, hence don't set this thing up right before walking on stage for a demo!

But once you've got the symbols in place, you'll be able to dig as deep as you want.
Next
We've been waiting for this for a long time. Today we are all very excited to start to develop ADAL for .NET/Windows Store/Windows Phone in that huuuuge open space floor that is the Internet.
As we finally reached the RC milestone, you can expect the next few weeks to be devoted to stabilization – however don't let that stop you from toying with the source, share your ideas, and if there's something you want to fix or contribute… hit that pull request button!

Vittorio who?

Vittorio Bertocci is a developer, speaker, published author, avid reader, troublemaker, foodie, Italian expat, and other things that would not be wise to mention here. This is Vittorio's personal blog. The views and opinions expressed here are his, and not those of his employer.

Follow @vibronet