Few weeks ago Scott Hanselman was so kind to have me over at the Studios to have a long chat about Windows Azure AD. That resulted in a number of Azure Fridays videos, which span from the very basics of claims based identity and eventually dive down all the way to where VS2013 templates save keys in their DB.
Scott was a great host – I skimmed the videos and his questions really helped to ground the conversation and keep it focused.This week we rolled the first 2 videos, an introduction to identity as a service and a walkthrough of the creation of a Windows Azure AD tenant.
Next week we'll get another two videos, where we'll get deeper in development tasks.
Now, the main question I left with is: who did I wrong in the channel9 staff for them to pick such a frame as the video's front cover? I will readily admit I am smug, but not nearly as smug as I appear in that frame

ooook, perhaps only for brief, sporadic moments?

Happy watching!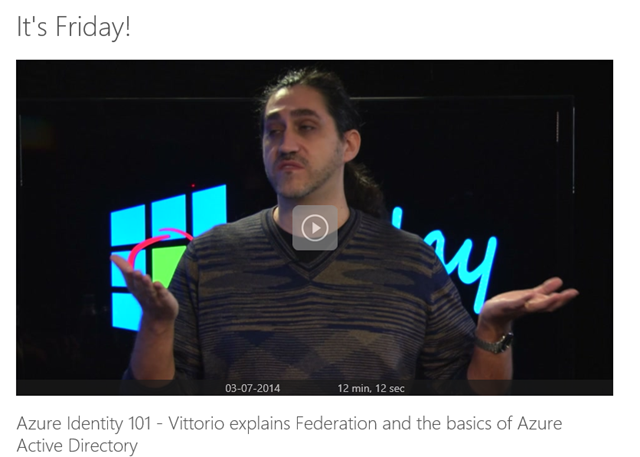 Vittorio who?

Vittorio Bertocci is a developer, speaker, published author, avid reader, troublemaker, foodie, Italian expat, and other things that would not be wise to mention here. This is Vittorio's personal blog. The views and opinions expressed here are his, and not those of his employer.

Follow @vibronet