From the monthly archives: February 2014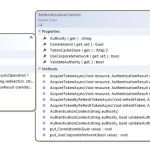 It feels so much longer, but in fact it's barely five months since ADAL .NET v1 hit general availability… however here we move at cloud speed, hence today we are already unveiling the developer preview of our V2!
In fact, we have quite a number of news. For details, read on!
Overview
You […]
Continue Reading

→
Vittorio who?

Vittorio Bertocci is a developer, speaker, published author, avid reader, troublemaker, foodie, Italian expat, and other things that would not be wise to mention here. This is Vittorio's personal blog. The views and opinions expressed here are his, and not those of his employer.

Follow @vibronet

@vibronet

Wife catches Alexa with the blue ring on, for no apparent reason. "Alexa, were you randomly sampling the ambient sounds?" - "🎼pu-plum".