From the monthly archives: August 2013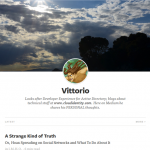 If I didn't make that abundantly clear, let me restate it: this is my personal blog, running on my own domain, hence I feel free to write whatever on it.
That said: I know that many of you come here for identity-related news, hence I have been trying to limit the off […]
Continue Reading

→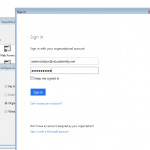 Today we are releasing a new developer preview of our Windows Azure Authentication Library (AAL) Active Directory Authentication Library (ADAL). You can find the NuGet package here.
This refresh introduces many new features which we believe will boost your productivity even further! Below there's a list of the most […]
Continue Reading

→
Vittorio who?

Vittorio Bertocci is a developer, speaker, published author, avid reader, troublemaker, foodie, Italian expat, and other things that would not be wise to mention here. This is Vittorio's personal blog. The views and opinions expressed here are his, and not those of his employer.

Follow @vibronet

@vibronet

Wife catches Alexa with the blue ring on, for no apparent reason. "Alexa, were you randomly sampling the ambient sounds?" - "🎼pu-plum".