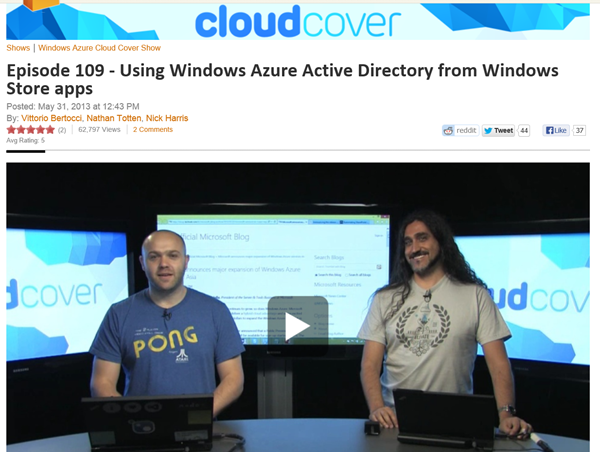 Between the JWT handler release, TechEd North America and other stuff I can't (yet) mention I have been neglecting this blog for too long. With this post I'll start a volley of updates on upcoming events, just-released videos and general goodness.
~10 days ago my good friends Nick & Nate invited me back on Cloud Cover, to chat about where we are at with Windows Azure Active Directory. Nick and I (Nathan was out) ended up spending most of the time discussing the new AAL for Windows Store and the OAuth2 endpoints currently in developer preview.
Although I had the good fortune to appear on the show many times already (episode 22; episode 44; episode 49; episode 72; episode 86) this time I smashed my personal record for number of views on a given timeframe: almost 63K in just 10 days! It is awesome to see the high level of interest Windows Azure AD is generating, and CC is clearly the right platform for it

Thanks again guys!
Vittorio who?

Vittorio Bertocci is a developer, speaker, published author, avid reader, troublemaker, foodie, Italian expat, and other things that would not be wise to mention here. This is Vittorio's personal blog. The views and opinions expressed here are his, and not those of his employer.

Follow @vibronet