The Recording of "A Lap Around Windows Azure Active Directory" From TechEd Europe is Live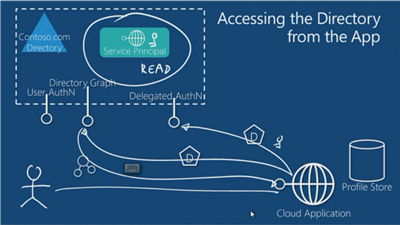 Hi all! I am typing this post from Shiphol, Amsterdam's airport, where I am waiting to fly back to Seattle after a super-intense 2 days at TechEd Europe.
As it is by now tradition for Microsoft's big events, the video recording of the breakout sessions are available on Channel9 within 24 hours from the delivery. Yesterday I presented "A Lap Around Active Directory", and the recording punctually  just popped up: check it out!
The fact that the internet connectivity was down for most of the talk is unfortunate, although I am told it made for a good comic relief. Sorry about that, guys!
Luckily I managed to go through the main demo, which is what I needed for making my point. The other demos I planned were more of a nice to have.
I wanted to query the Directory Graph from Fiddler or the RestClient Firefox plugin, to show how incredibly easy it is to connect with the directory and navigate relationships: however I did have the backup slide showing a prototypical query and results in JSON, albeit less spectacular it hopefully conveyed the point.
The other thing I wanted to show you was a couple of projects which demonstrate web sign on with the directory from PHP and Java apps: given that I had those running on a remote machine (my laptop's SSD does not have all that room) the absence of connectivity killed the demo from the start; once again, tho, those would have demonstrated the same SSO feature I have shown with the expense reporting app; and I would not have been able to show the differences in code anyway, given that the session was a 200. So, all in all a lot of drama but not a lot of damage after all

Thanks again for having shown up at the session, and for all the interesting feedback at the book signing. Windows Azure Active Directory is a Big Deal, and I am honored to have had the chance to be among the first to introduce it to you. The developer preview will come out real soon, and I can't wait to see what you will achieve with it!
Vittorio who?

Vittorio Bertocci is a developer, speaker, published author, avid reader, troublemaker, foodie, Italian expat, and other things that would not be wise to mention here. This is Vittorio's personal blog. The views and opinions expressed here are his, and not those of his employer.

Follow @vibronet