Live from TechEd Atlanta: Drew Shows Windows Azure, Windows Phone 7–Uses Identity to Glue Them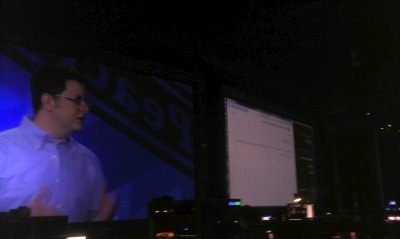 Just few hours ago Wade announced the new release of the Windows Azure Toolkit for Windows Phone, with support for ACS. You can already see the bits in action from the stage of the TechEd keynote – nonetheless – from where a very elegant Drew Robbins is demonstrating Fabrikam Fiber, a really cool scenario scenario which integrates Windows Azure (storage, compute, Windows Azure Connect, Traffic Manager), Windows Phone 7 (featuring a lot of dev tools features coming in Mango!) and, or course, the Windows Azure AppFabric Access Control Service.
The scenario demonstrated uses the next evolution of the toolkit, where the integration with ADFS2 will make user provisioning no longer necessary (see notes in this post). That's cool stuff, folks! Tune in to the keynote live streaming, or check out the recordings afterwards: highly recommended.
Vittorio who?

Vittorio Bertocci is a developer, speaker, published author, avid reader, troublemaker, foodie, Italian expat, and other things that would not be wise to mention here. This is Vittorio's personal blog. The views and opinions expressed here are his, and not those of his employer.

Follow @vibronet