New Portal for the ACS Labs: Fewer Clicks, Happier Carpal Tunnels
As the AppFabric services line up with the look & feel of the SL based Windows Azure portal, the ACS Labs gets a restyling too! Wade tells you everything about the new release here.
I love the new look of the ACS portal: the new left-hand navigation menu saves you many clicks, and above all you always have in front of you the list of things you can do/manage without paying for a mental context switch. Here there are the main things you want to pay attention to.
Per-Service Namespaces
With the old AppFabric portal, every time you created a service namespace you reserved endpoints on all three services: Access Control, ServiceBus and Cache.
In the new portal you can still create service namespaces but you gain the further option of creating namespaces that are scoped down to a specific service.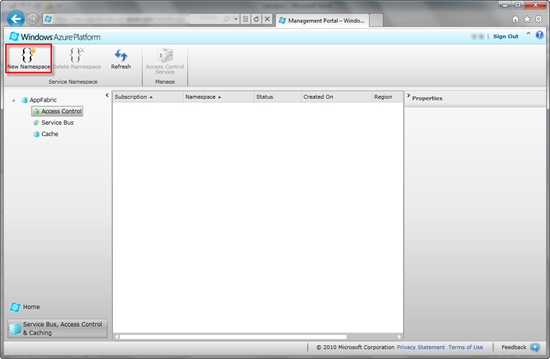 In that case, the UI will refer to the namespace as <Service Name> Namespace. Below there's one example, or course for ACS:

Beware of the Pop-Up Blocker!
When you are ready to manage your ACS namespace you are going to hit one of the namespace's endpoint, which just happens to emit human-ready UI rather than tokens, metadata and other machine-fodder stuff. The idea remains the same, although the button that launches the management portal is considerably prettier: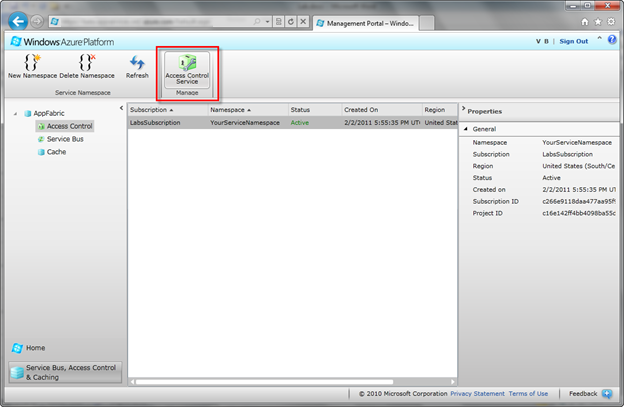 Once you hit that button, the browser will open the ACS management portal in another tab.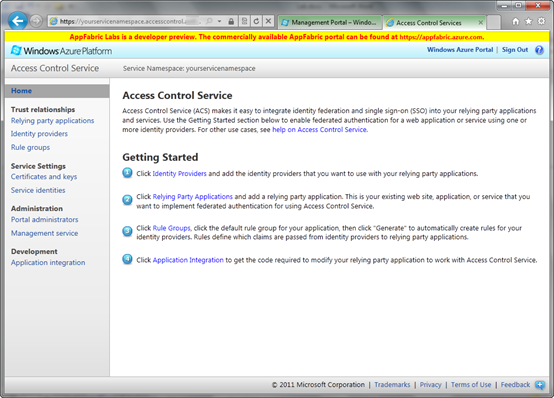 Here there's the thing: if your browser is blocking popups, the management portal won't show up. I would recommend you set an exception for the AppFabric portal in your pop-up blocker.
Same Functionality, Different Layout
The UI is more pleasant, and contains various small enhancements; but the way in which you operate the service remains substantially the same, you just need to adjust for a slightly different layout. For example, here there's the screen for adding an identity provider:

Pretty straightforward, right? Another example, adding a new Relying Party: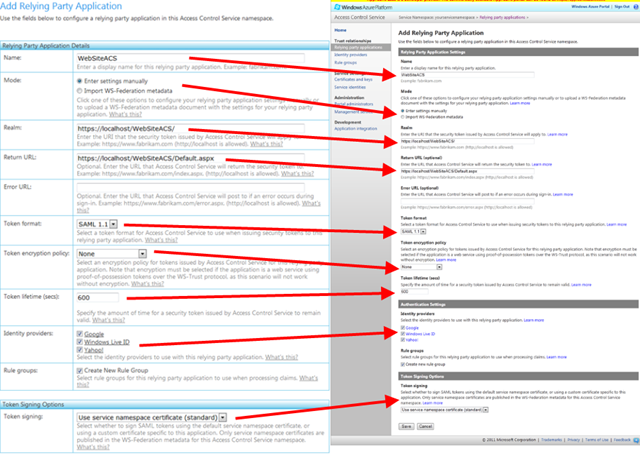 More user friendly (for example, we now tell you what is optional) but substantially the same stuff.
This means that 1) you can transfer "as is" your existing knowledge of the service and 2) you can still use all the ACS labs in our recently released Identity Training Kit and Windows Azure platform Training Kit, you just need to be a bit flexible when you interpret the navigation instructions (you no longer need to go back to the main hub when you are done with something,a s the options are now always available in the left menu) and the screenshots (you need to map the layouts).
Of course we plan to update all the HOLs instructions accordingly, but the bottom line is: you don't need to wait until we do for enjoying the brand new ACS skin. As usual, have fun!
Vittorio who?

Vittorio Bertocci is a developer, speaker, published author, avid reader, troublemaker, foodie, Italian expat, and other things that would not be wise to mention here. This is Vittorio's personal blog. The views and opinions expressed here are his, and not those of his employer.

Follow @vibronet