Windows Azure Platform Training Kit and MSDN Course Update: Closing January in Style
Wade just announced the  release of the January 2011 update of the Windows Azure Training Kit and associated MSDN course: it is chock full of new stuff, go check it out!
One not-so-well-known tidbit is that there's a significant portion of shared content between the Identity Training Kit & Course and the Windows Azure Platform Training Kit & Course; every time we update identity content that happens to touch on cloud scenarios, the content eventually finds its way in both. For example, this January release of the Windows Azure platform kit contains pretty much all the new stuff I announced in the corresponding update in the Identity Training kit. In honor of my friend Eve Maler, who's especially fond of Venn diagrams, here there's a graphical depiction of the HOLs in the two kits

Have fun!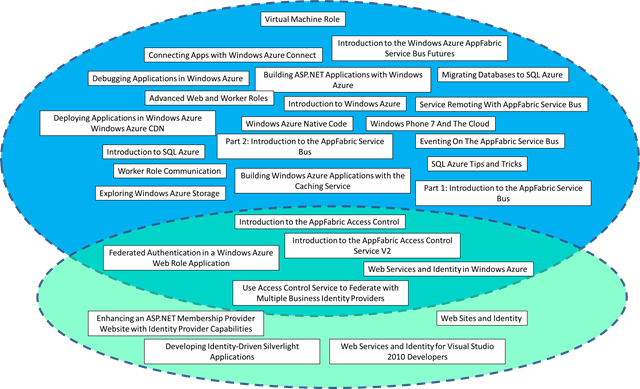 Vittorio who?

Vittorio Bertocci is a developer, speaker, published author, avid reader, troublemaker, foodie, Italian expat, and other things that would not be wise to mention here. This is Vittorio's personal blog. The views and opinions expressed here are his, and not those of his employer.

Follow @vibronet