Barely one month after the start of the ACS renaissance, here there's a new update for you.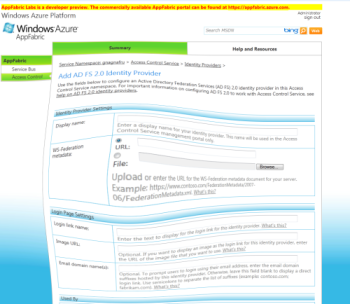 The September release brings a number of enhancements here and there, all the way from the small-but-useful to the Big Deal.  Here's a brief list:
Miscellaneous portal enhancements. For example, now you can upload the federation metadata documents of the WS-Federation IPs you want to federate with: in the first release of the portal you had to expose the metadata docs on one internet-addressable endpoint (though it was possible to use the management APIs to obtain the same result)
More documentation, more samples. Some capabilities already present in the August release weren't too discoverable, such as for example the WS-Trust endpoints. The next release addresses this, although there are still tons of functionalities just waiting to be discovered
X.509 certs as credential type for the WS-Trust endpoint
OAuth2! Web server and autonomous (nee assertion) profiles, Draft 10 to be exact. That's a veeery interesting arena. There's a lot of work going on around there, and the new feature in ACS could not be have been more timely. Stay tuned…
…and many others
You can read everything about it at the ACS home on Codeplex, in the announcement post and on Justin's blog.
Rrrrock on!
Vittorio who?

Vittorio Bertocci is a developer, speaker, published author, avid reader, troublemaker, foodie, Italian expat, and other things that would not be wise to mention here. This is Vittorio's personal blog. The views and opinions expressed here are his, and not those of his employer.

Follow @vibronet