The June 2010 Identity Training Kit Contains Powerpoint Decks, Videos
digg_url = "http://blogs.msdn.com/b/vbertocci/archive/2010/06/28/the-june-2010-identity-training-kit-contains-powerpoint-decks-videos.aspx";digg_title = "The June 2010 Identity Training Kit Contains Powerpoint Decks, Videos";digg_bgcolor = "#FFFFFF";digg_skin = "normal";digg_url = undefined;digg_title = undefined;digg_bgcolor = undefined;digg_skin = undefined;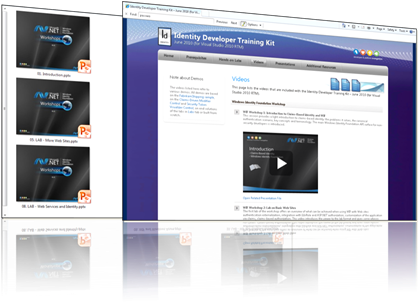 As promised, here there's a version of the Identity Developer Training Kit which contains the decks from the WIF Workshops and embedded players for all the video recordings of the Redmond event; alongside, of course, with the usual hands-on labs. After more than one year, I was finally able to get rid of the sentence "subsequent releases may contain presentations, samples and demos" from the training kit download page… the future is now!
If you want to do a presentation on WIF, now you have slides covering a pretty comprehensive range of topics to chose from; in fact, you can ever redeliver the workshop in its entirety if you choose so. If you do, please let me know and I'll make sure to advertise your event (and publish pictures afterwards!) from this pages.
I get asked to give intros to WIF every day: knowing your way through claims-based identity is a skill in high demand, and I hope that all the assets packaged in the June 2010 version of the kit will help your business!
Vittorio who?

Vittorio Bertocci is a developer, speaker, published author, avid reader, troublemaker, foodie, Italian expat, and other things that would not be wise to mention here. This is Vittorio's personal blog. The views and opinions expressed here are his, and not those of his employer.

Follow @vibronet