From the monthly archives: January 2008
Few months ago I made a little tour of Europe, and (among various places I visited) I went to spent some quality time in Amsterdam. Here I had the pleasure of spending some time with Albert van den Broek, CGO of Continue Reading →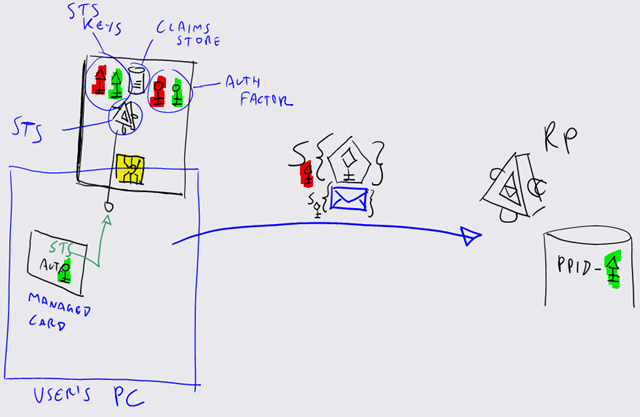 Already Sunday evening. It was a weird weekend, partially spent under the influx of powerful pain killers (dentist played alpinist with my jawbone: and no, do not expect any aesthetical improvements). That's probably the reason for which I recalled this very specific idiosyncrasy I have for the hype around the idea of P-STS, often presented […]
Continue Reading

→
Very impressive!
I am sure that this great ranking is also thanks to the readers of this blog… so THANKS 🙂
Amazon stats are very volatile (I'll make a more detailed post about it), but it's still great. I think this is the best rank we got since publication.
I am so glad […]
Continue Reading

→
[synopsis for the English readers: a financial newspaper in Italy published an article about CardSpace; I make some considerations about it]
Cari lettori italiani, e' parecchio che non scrivo un post nella lingua natia… come e' parecchio che non trovo il tempo di pescare qualche […]
Continue Reading

→
[edit: apologies if this shows in your aggregator twice. I am testing the AmazonConnect feed]

Last week Caleb and I have been surprised in my office by Charles "Carlo" Torre and his camera. The result is an impromptu interview about CardSpace, which is currently on
Continue Reading

→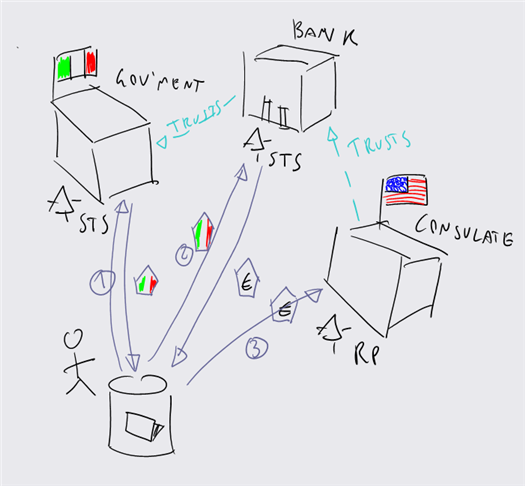 Ah, the beauty of models. A good model can capture the essence of a system, a phenomenon, anything: it allows you to easily manipulate things, make predictions, transport the knowledge you already have of a domain to a new one. It's just great, and as we will disclose more things about Oslo I am sure […]
Continue Reading

→
It turns out that the channel9 video on ws-trust was down for (quite?) some time. I am pretty surprised by the number of people that is still checking out that clip!
Now it works again, provided that you view it by clicking the download button (which, […]
Continue Reading

→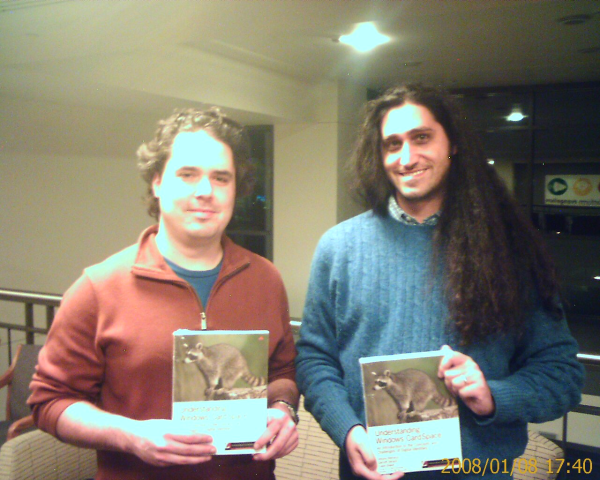 Hurrah 🙂
Caleb and I just went to pick up the big authors package, containing (among other interesting things) our first copies of the book. Below you can see a snapshot (thank you James!) of Caleb and I (let's see if you […]
Continue Reading

→
I know, with all this new distribution channels, new media, CTPs, rough cuts & similar the moment of publishing something blurred, hence lost a bit of its ceremonial aspect; and yet, it's a very important event for a book… also because it is the moment from which the […]
Continue Reading

→
Back in October 2005, few weeks after I moved to the US, I wrote a blog post in which I introduced the idea of a collective name for the federated resources accessible to a company. One of the names I proposed was federnet. At the time I […]
Continue Reading

→
Vittorio who?

Vittorio Bertocci is a developer, speaker, published author, avid reader, troublemaker, foodie, Italian expat, and other things that would not be wise to mention here. This is Vittorio's personal blog. The views and opinions expressed here are his, and not those of his employer.

Follow @vibronet

@vibronet

Wife catches Alexa with the blue ring on, for no apparent reason. "Alexa, were you randomly sampling the ambient sounds?" - "🎼pu-plum".