From the monthly archives: December 2007
On the Paris-Seattle flight, coming back after 2 weeks spent stuffing myself with all sorts of food with the excuse "after all, you can't find this in USA" 🙂
Before hurling myself back in the vortex of daily work, and celebrate the end of the year with something crazy, I want to take […]
Continue Reading

→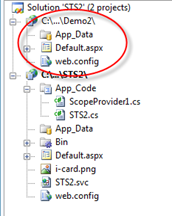 All right! Welcome to the last installment of this unusual multipart post: this time we are going to see how the ADFS "2" Identity Framework makes creating an RP a trivial task.
Previously, on Vibro.NET:
One of the comments to my Continue Reading →
Here we are again. I can't believe it's already THREE weeks I've posted part I of this post! Well, this Saturday I leave for EU where I'll spend a couple of weeks of vacation (Italy & Poland): so I better get to work and finish what I've started. […]
Continue Reading

→
[warning: this post does not feature any identity related content, and it's probably useless]
I feel for the UMPCs an unhealthy (walletwise) attraction, since the very moment they came out. In fact, if you dig in the early years of this blog you'll see I am a gadget freak: I am still proudly going […]
Continue Reading

→
Ah joy. It's 12:31 AM of Sunday morning, hence i shouldn't be blogging: but I like the news, and it will take just a minute.
Back in June I blogged about SignOn.com, an openID provider that allows you to authenticate using personal cards side by side with traditional […]
Continue Reading

→
Vittorio who?

Vittorio Bertocci is a developer, speaker, published author, avid reader, troublemaker, foodie, Italian expat, and other things that would not be wise to mention here. This is Vittorio's personal blog. The views and opinions expressed here are his, and not those of his employer.

Follow @vibronet

@vibronet

Wife catches Alexa with the blue ring on, for no apparent reason. "Alexa, were you randomly sampling the ambient sounds?" - "🎼pu-plum".