From the monthly archives: December 2007
On the Paris-Seattle flight, coming back after 2 weeks spent stuffing myself with all sorts of food with the excuse "after all, you can't find this in USA" 🙂
Before hurling myself back in the vortex of daily work, and celebrate the end of the year with something crazy, I want to take […]
Continue Reading

→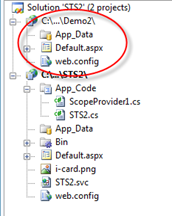 All right! Welcome to the last installment of this unusual multipart post: this time we are going to see how the ADFS "2" Identity Framework makes creating an RP a trivial task.
Previously, on Vibro.NET:
One of the comments to my Continue Reading →
Here we are again. I can't believe it's already THREE weeks I've posted part I of this post! Well, this Saturday I leave for EU where I'll spend a couple of weeks of vacation (Italy & Poland): so I better get to work and finish what I've started. […]
Continue Reading

→
[warning: this post does not feature any identity related content, and it's probably useless]
I feel for the UMPCs an unhealthy (walletwise) attraction, since the very moment they came out. In fact, if you dig in the early years of this blog you'll see I am a gadget freak: I am still proudly going […]
Continue Reading

→
Ah joy. It's 12:31 AM of Sunday morning, hence i shouldn't be blogging: but I like the news, and it will take just a minute.
Back in June I blogged about SignOn.com, an openID provider that allows you to authenticate using personal cards side by side with traditional […]
Continue Reading

→